Welcome, Visitor.
Subscribe to our RSS Feed
and consider adding this article/site to your favorite social bookmark site if you find it useful. Thank you!
One of my reader have asked me about unlocking Tuch pro 2 CDMA Device. In this post i am going share the touch pro 2 Unlocking utility. If you have a touch pro 2 CDMA Device ( Rhodium ), then you can Unlock HardSPL to flash custom ROM. You can unlock your touch pro 2 CDMA HardSPL device for free. This Utility package is for Rhodium CDMA-GSM world phone version only.
Note: before downloading this you should agree that we are not responsible if something goes wrong. I unlocked my TP2 using this method.
1. At first go to this website bellow and download the program on your PC.
http://rhodiumw.htc-unlocks.com/hard-spl.php

2. Login as a admin on your PC and Unzip the utility on your hard drive. Now Connect Your Touch pro 2 CDMA device with Windows using Activesync. Then Run the program. It will show a Window like this :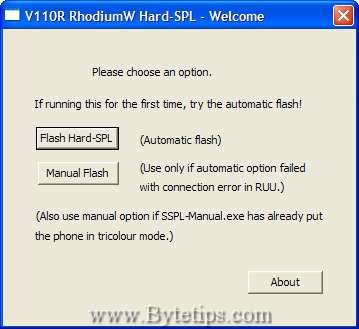 3. Click On the Flash Hard-SPL button.

It will ask you to wait while it prepares for the flashing, press OK. After that It will launch Rom Update Utility. Then follow the on-screen instruction. Wait and your device will automatically reboot.
4. Now you have Unlocked HardSPL on your touch pro 2 CDMA Device (Rhodium W). After that you can Flash Custom ROM on your Tuchpro 2 device. Have fun with your
You can also Relock Touch pro 2 device to original HardSPL. You can find more details Info here:
http://rhodiumw.htc-unlocks.com/hard-spl.php
http://forum.ppcgeeks.com/showthread.php?t=93252