Welcome, Visitor.
Subscribe to our RSS Feed
and consider adding this article/site to your favorite social bookmark site if you find it useful. Thank you!
Check Out some amazing Command Prompt Tricks.I am Updating cmd tricks while learning. I found found some Command Prompt tricks i collected few years ago while cleaning junk from my pc last night. Because .. I test lots of freewares to find out best freeware programs for my needs. Anyway.. This cmd tricks are Old but still fun and usefull..so here we go…
Watch A Movie Created with Command Prompt
Command prompts movie..!! amazing Creation. But you need active internet connection to enjoy this movie. It's a star wars movie. Here is how to watch this movie :
1. Go to Start > Run and type in cmd
2. You will see the command prompt window . Now type in this command line.
telnet towel.blinkenlights.nl
And hit Enter. Now enjoy the Star wars Movie.
Shutdown PC On your LAN Network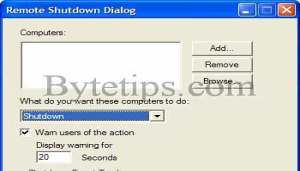 This trick will shutdown a selected pc from Your LAN network. You can apply this trick in your office or school.. but i take no responsibilities fro any action. Its just for fun. Here is how to use this trick :
1. Go to Start > Run and type in cmd
2. You will see the command prompt window . Now type in this command line.
shutdown.exe -i
And hit Enter. You will see remote shutdown Window. If you know someone's IP on a computer in your Local Area network, type in their IP Address after clicking the add button.
3. After entering the IP Address click OK . Now watch the person's face as their computer shuts down.
Some users have asked me that they got Access Denied error for remote shutdown.  Add the user with the privilege to force a remote shutdown on the computer you are about to Shutdown.To do this go to control panel > Administrative Tools > Local Security Settings. Now go to Security Settings > Local Policies > User Rights Assignment. Double-click on Force shutdown from a remote system in the right pane and Click on Add User or Group. Add the computer that runs the remote shutdown command.

Or you can do this go the computer you are about to Shutdown
a) Go to Start > Run > type in Regedit in the dialog box and hit enter
b) Go to My Computer/HKEY_LOCAL_MACHINE /system/currentcontrolset/control/lsa
c) Find "forceguest" in the right pane Double click on it to modify This entry change the value from "1″ entry to "0″
Some Other Fun on Command Prompt

At first start  command prompt from Start > Run,  the type in cmd click on  OK and enter the following command:
title your Custom Message
Here your Custom Message indicates any message. Then hit Enter check out the title bar of
the command window. Just a cheap little trick…
Here is another.. Run command prompt and type in
prompt whatever you want it say
For example if you type prompt hello your c: prompt will change to hello
4. Open in command prompt context menu : If you use command prompt more often then this trick is for you. This is a quick trick to open any folder in command prompt quickly.
At first select the folder on the explorer and hold Shift key + right-click. Then select Open command window here .Then CMD prompt with the path to that folder directly open.
That's all for now Have fun and enjoy..