Welcome, Visitor.
Subscribe to our RSS Feed
and consider adding this article/site to your favorite social bookmark site if you find it useful. Thank you!
Guys Its time to get more cool cheats for farmville game. Few days ago i shared some Farmville cheats For Facebook Here. Check those tricks to save time and clicks on this online game. Today i am going to write about some way to save your time and how to get free gifts on Farmville game. I hope you guys gonna like this…
Farmville Auto Clicker: If you have a big farm and you are out of fuel on farmville then it takes lot of clicks to plow , plant and harvest. For me it boring…Anyway you can auto plow, plant and harvest faster by using Firmville auto clicker ( farmville bot) . And its free…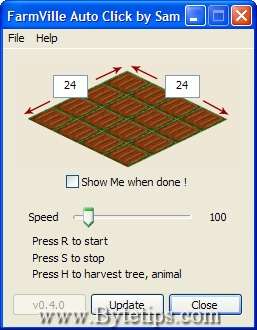 Download the free program from here
For Windows :http://samfv.wordpress.com/2010/01/24/auto-click-v0-4/
For Mac : http://samfv.wordpress.com/2010/02/08/auto-click-for-mac-os-v0-1/
Now extract and run the program. Put your firm size or the area you you want to auto click and have fun. Here is a video that shows how it works..(Created by the developer)
[dailymotion xc5dif 500 400]
User scripts  Farmville : The first script i am going to share is FarmVille Wall Manager. This script automatically accepts / grabs bonuses, bouquets, animals, eggs, fuel, presents, mystery boxes from your facebook wall.
Before using this tool you need to know that there is a risk of getting banned if you refresh too often and grab too many requests at once.. You can get more details from the user script link bellow..
If you have Mozilla Firefox browser with GreaseMonkey add-on installed… then go to http://userscripts.org/scripts/show/62135 and install the script by clicking on install button.
Or Follow this steps to use Firmville cheat script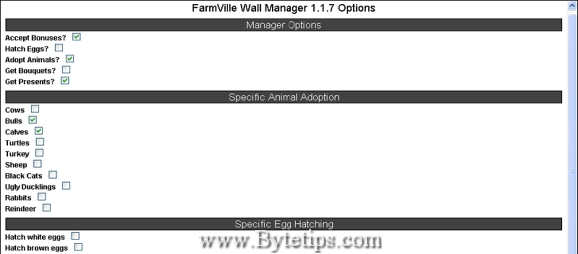 1. You need to Open Mozilla Firefox browser.
2. Now install Greasemonkey Add-on for Firefox. Here the link for Greasemonkey: https://addons.mozilla.org/en-US/firefox/addon/748 Go to this link and click on Add to Firefox and install the add-on and restart Firefox.
3. Now go to http://userscripts.org/scripts/show/62135 and click on Green Install button now it will a window will appear.. click on install button from the window. Wait until it installs the script.
4. Now go to http://www.facebook.com/home.php?filter=app_102452128776&show_hidden=true&ignore_self=true and the script will automatically accept bonuses, bouquets, animals, eggs, fuel, presents, mystery boxes from your facebook wall…. have fun …