Welcome, Visitor.
Subscribe to our RSS Feed
and consider adding this article/site to your favorite social bookmark site if you find it useful. Thank you!
Note: The developer of the script stopped developing this script. Read about new cheat script here: Mafia wars and Farmville wall auto helper.
If you like to play Facebook mafia then you will love this mafia wars cheats. This script will auto help you to do friends jobs, gets free boosts . It can also helps your friends in mafia wars declared wars. It can collect special bonus items and rewards from your Facebook wall.  Now You don't have to go through all the posts made by your  mafia wars friends. Take a look at the picture i took from the mafia wars cheat script :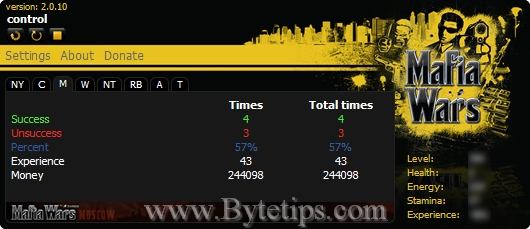 Few months ago i shared a scripts which can auto play mafia wars. You can find all the mafia wars cheats on my mafia wars cheats post.
You can easily find out experience points and boost earned by this little tool. You can change and modify settings from the settings menu. Before using this tool you need to know that Zynga doesn't like auto player like tools. They might ban you for this cheating. If you have Mozilla Firefox browser with GreaseMonkey add-on installed… then go to http://userscripts.org/scripts/show/59020 and install the script by clicking on install button.
Or Follow this steps to use this mafia wars cheat script
1. You need to use Mozilla Firefox browser.
2. Now install Greasemonkey Add-on for Firefox. Here the link for Greasemonkey: https://addons.mozilla.org/en-US/firefox/addon/748 Go to this link and click on Add to Firefox and install the add-on and restart Firefox.
3. Now go to http://userscripts.org/scripts/show/59020 and click on Green Install button now it will a window will appear.. click on install button from the window. Wait until it installs the script.
4. Now  log in to your Facebook account and go to to this page www.facebook.com/home.php? to start you cheat tool. Have fun collecting free boosts, experiences and mafia wars loot …