Welcome, Visitor.
Subscribe to our RSS Feed
and consider adding this article/site to your favorite social bookmark site if you find it useful. Thank you!
Windows 7 is the most recent version of Microsoft Windows. I attended the Windows 7 Launch Party on 7th November and enjoyed the event (well had some fun). Anyway I was using windows 7 Rc1 and I loved it.  So here are some cool features I liked about windows 7.

Amazing Windows 7 Taskbar: May be you are thinking what's new about taskbar?  Windows 7 brought some awesome features and new look for windows taskbar. For that it's called as Superbar.Here are some changes:
a)  Now you can pin or unpin icons to the taskbar. Go to taskbar / start menu, and then right click on any item to pin or unpin icons to the taskbar.
b) Another new feature is Jump Lists. You can get quick access to some application options and histories by using jump Lists. Just right click any icon on the taskbar to see the Jump List. Here is a working example for media player.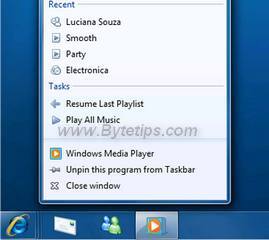 c) Windows 7 superbar introduced new Application Previews and lots more.
New ribbon navigation and features for some Built-in application: Most of the users don't like or use WordPad, paint or calculator. Microsoft added new features like unit conversion for Calculator. You can see ribbon navigation for WordPad and paint. Here is a screenshot I took from WordPad and Microsoft paint.

Improved search feature: Windows built-in search feature is faster then before. You wouldn't believe me … Try it yourself to find about it.
Other features and improvements: Windows 7 added useful utilities to provide a better user experience for windows Users.Checkout some utilities from windows 7 here: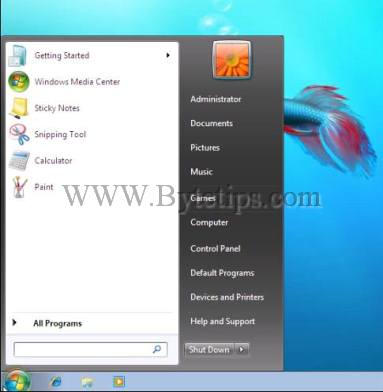 a) Sticky Notes loved creating Sticky Notes. Before I used third-party software for Sticky notes. Now I can create my own Sticky Notes.
b) Did you ever wanted to take a screenshot from an application or desktop? Now Snipping Tool made is easy to take screenshot. I used Snipping Tool a lot of times. I used Snipping Tool for Most of the pictures on this post.
c) Windows 7 features full-screen magnifier. It allows a user to pan around the screen at up to 16× magnification. I hope you are going to like it, if you have wireless mouse and keyboard.
d) There are lot of features and options… Xp mode for running older applications, Windows Backup for backing up network share , BitLocker for security, Projection for setup and a projection system, better Remote Desktop, New device manager,Windows Live Essentials and few more.
I didn't like vista for some reason but I like windows 7. I shall try to write about some tips and tricks for windows 7… until then have fun.