Windows 7 is the most recent version of Microsoft Windows. I attended the Windows 7 Launch Party on 7th November and enjoyed the event (well had some fun). Anyway I was using windows 7 Rc1 and I loved it.  So here are some cool features I liked about windows 7.

Amazing Windows 7 Taskbar: May be you are thinking what's new about taskbar?  Windows 7 brought some awesome features and new look for windows taskbar. For that it's called as Superbar.Here are some changes:
a)  Now you can pin or unpin icons to the taskbar. Go to taskbar / start menu, and then right click on any item to pin or unpin icons to the taskbar.
b) Another new feature is Jump Lists. You can get quick access to some application options and histories by using jump Lists. Just right click any icon on the taskbar to see the Jump List. Here is a working example for media player.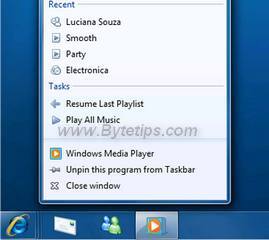 c) Windows 7 superbar introduced new Application Previews and lots more.