Welcome, Visitor.
Subscribe to our RSS Feed
and consider adding this article/site to your favorite social bookmark site if you find it useful. Thank you!
Today i updated Bytetips theme for wordpress. The main reason behind this was to make this theme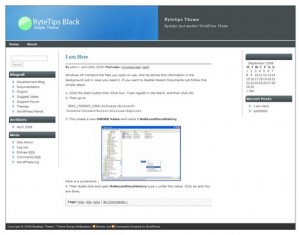 compatible with new wordpress version 2.7. In November 2008 new version of wordpress is coming. I tried the beta wordpress 2.7 and worked on the  theme. I added the new reply comment option in this theme. And tweaked comment from a little bit. I am so happy to say that this theme has been downloaded 2,603+ times from the first release. Hope you are going to like it. Foe download link and other questions check this link WordPress theme Bytetips. In this version i removed the some image and compressed css codes to make this theme fast loading. If you don't know why you should use compressed CSS codes check How to speed up your blog Speed. Here is the change log for this new theme Used compressed CSS code, Added wordpress 2.7 support, Added new styles to comment, Finally fixed some css issue.
You can also download it from here : Bytetips for WordPress 2.7