Welcome, Visitor.
Subscribe to our RSS Feed
and consider adding this article/site to your favorite social bookmark site if you find it useful. Thank you!
You can type a word the way it sounds using a keyboard. Google input tools will automatically convert it to Bengali or selected languages. Recently I am using Google input tools for typing documents in my native language Bengali. For example, if I type "ami", then It would convert to আমি. I am sure that you will enjoy this little tip.

It was never easy to type in my native language without knowing the keyboard layout. Google Input tool made it easy for me. Here is a screenshot of how it converts the language: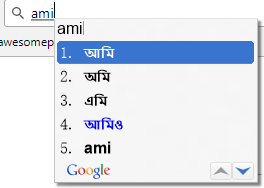 I am using this with Windows 10 operating system. It supports Twenty-two different languages.Goggoleclearly added instruction for Windows 7 /Vista and Windows XP. But there is no instruction for installing Google input tools for windows 10. Here are the steps I took to configure Google input tools for windows 10:
Step 1 Download: Select the languages from the supported list and click on Download link after agreeing to Google terms of service. Supported languages and download link can be found here: https://www.google.com/inputtools/windows/index.html
Step 2 Installation: Ensure that you have an active internet connection and run the InputToolsSetup.exe to begin the installation. Close the installation window when installation is finished.
Step 3 Configuration: Go to Control Panel\Clock, Language, and Region\Language . You will see something like this:

Now select and click on the option for the language you want to install for your Windows operating system. Then click on Install language Pack. It will install the selected language pack and show something like following:

Now go to  Control Panel\Clock, Language, and Region\Language\Advanced settings and click on Change language bar hotkeys. You will be able to see the hotkey and language bar options. I have configured language bar to show in the  taskbar and my shortcut key is Left Alt +Shift
At this stage, you have successfully configured  Google input tools for windows 10. Switch language using hotkey and type in your language on the fly.