Welcome, Visitor.
Subscribe to our RSS Feed
and consider adding this article/site to your favorite social bookmark site if you find it useful. Thank you!
WinUtilities is a an award winning tweaking utility suite for Windows. It Repairs, Optimizes, Protects you windows privacy in a easy way. This software has some built-in tools to speedup system performance. I am using WinUtilities 9.4 pro instead of buying other commercial windows utility suite. Best of all .. they are giving away WinUtilities 9.4 Professional License key for free.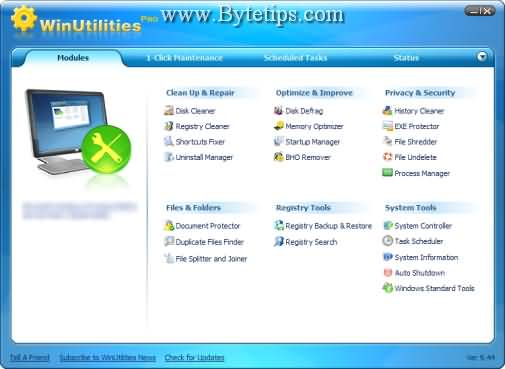 Here are some cool features of WinUtilities :
1. Cleanup and Repair : You can clean incorrect registry from registry cleaner. Unsinstall softwares from Uninstall Manager. Clean and save your disk space by using disk cleaner. Repair your broken shortcuts by using shortcuts fixer.
2. Privacy And Security : Use History cleaner to erase your application and internet browser history and protect your Privacy. Protect any .exe file with a secure password. Erase file permanently so that no one can recover your private files. Recover accidentally deleted file Using File Undelete utility.
3. Optimize And Improve : To improve system performance use Disk Defrag, Memory Optimizer, Startup Manager, BHO remover.
You will find more utilities and tools to optimize you windows by using this software… To get the download link and free license key visit the following links. Have fun..
Download Link : http://www.softpedia.com/progDownload/WinUtilities-Download-30740.html
Free License code Link : http://www.ylcomputing.com/content/view/351