Welcome, Visitor.
Subscribe to our RSS Feed
and consider adding this article/site to your favorite social bookmark site if you find it useful. Thank you!
Before reading this trick please notes that this is a Blackhat trick to get thousands of Junk traffic to a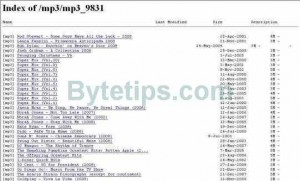 website, blog or targeted landing page. I found this trick few days ago and I don't even want to try this trick because it's a black hat technique. Before applying this trick you should know that black hat methods are easy to apply but it's not legal. I am sharing this trick for educational purpose only. If you apply this trick, you are responsible for everything. You can get around 2k Junk visitors for free from search engines easily. This is a junk traffic because you have to trick website visitor to your targeted landing page. We are making a fake mp3 music directory and converting the downloading links to junk traffic. (This is not a nice thing to do!!) This method can redirects some serious traffic. If you are looking for some junk traffic stop wasting money for buying traffic.
Thousands of people are interested for downloading free music, free porn's and other interesting stuffs. Some webmasters are taking this advantage of this. Before I added some tips about searching mp3 and other files on the Search engine here. This trick helps to find free mp3 music and mp3 music directory easily. I know that I got a lot of hits on that tips. People are crazy about downloading free music. The script developer used some sites to print fake music directory. Then he used that fake music directory to redirect traffic to a targeted landing page. Here are the step by step details about that:
1. At first you need a domain and hosting. If you have some extra domain sitting around without any profit you should use that leftover domain.
2. You need to run a perl script on your server or windows. To run perl script on windows you need to use server software like Xampp or Download activeperl for your windows version. Install and follow the instructions. If you are not sure how to install this Plz read here.
3. When you are ready to run perl script, then download the mp3 Perl script or the porn perl script developed by the Script developer.

Download those scripts from here : perl Script
Open one of the perl script using Xampp local host Cgi-bin or if you have installed Activeperl, double click it and activeperl will open it automatically and will run the script.(you will see the script is working.) Once it has finished you should find three html pages sitting in your. The script generated those html files. These are the files you must upload to your hosting.
4. Go to your hosting account control panel. or ftp manager to upload those files. If you have cpanel. Go to Cpanel and Click on file management and go to the public.html folder of your domain. If it is a new domain you will have just the cgi-bin in the window.
Click on the upload button at the top and upload the html pages. This will take a couple of seconds and you will see the mp3 html pages sitting beneath your cgi-bin.
If you are using Ftp Upload those htm files to the public.html directory.
5. Type your domain into your browser and you will see a directory of music. your website should look like the screen shot i added on this post. If you click on any of the links in the directory you will get an error page. Now all you have to do is redirect that error page to your targeted Web page or blog or link. If you have .htaccess on your directory edit that file or click on new file in your file management and make a file called .htaccess and it will be added under your html files. Next click on .htaccess and and then press edit and add this code
ErrorDocument 404 /yourpage.html
And then save that. Here yourpage.html refers to whatever page you created for 404 error. That's it!! We are done here. You can now redirect free traffic to you targeted pages.
Whenever anyone clicks on the music links on your new site they will be directed to your page with your link on it and then you can add affiliated link to start getting some sales!!
You can use simple html page with clickbank hoplink embedded into some wording.
Just download any free html editor and make a simple page with your hoplink on it saying click here or something and save this page you have made as a html document on your computer saving it as a html document something like yourpage.html. Now upload this to your hosting like you uploaded the other fies.
Note: I didn't created the script. I found this trick from browsing. Use this at your own risk.