Welcome, Visitor.
Subscribe to our RSS Feed
and consider adding this article/site to your favorite social bookmark site if you find it useful. Thank you!
Few day ago i wrote about a windows mobile 6.5 ROM With Windows Chome and manila 2d. I wanted to try Windows mobile 6.5 and windows mobile 7 style on their Pocket pc device. You might know that Windows mobile 7 release date delayed. But I saw some Today plugin developers are trying to port the look and feel of New Today screen from windows Mobile 7 to windows mobile 6.5 ROM's. Developers opened a project named Titanium. Here is some screen shots from my T-mobile MDA.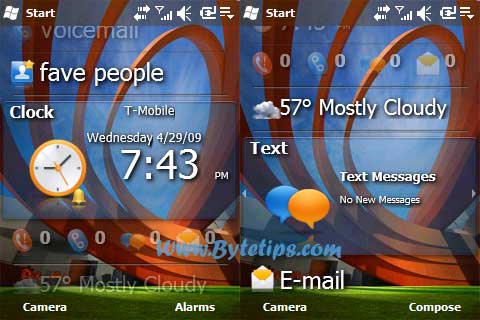 Its beta Plugin for windows Mobile 6.5 ROM Users. I myself use windows mobile 6.5 Rom on my T-mobile MDA. If you want to see how it looks on my MDA Check Here : Windows Mobile 7 Look and feel On MDA. Window Mobile 6.5 Titanium Plugin looks great on MDA. If you are running a custom Rom wm 6.5 on your device you might want to try the new style with some extra Panels.
Developer of this plugin trying to make this theme look like Windows Mobile Phone 7. This plugin ads new look and feel to Windows mobile 6.5 Chome. also edit the theme and panels using Chome editor. Chome editor Looks like this..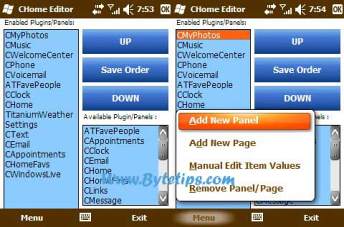 Its easy to edit Chome (Titanium today Screen ) using CHome editor utility. You can add new page and You can manually edit item values..

Requirements:
This theme is Only for Windows Mobile 6.5 Users. (use customized Rom )
It supports QVGA, WQVGA, VGA and WVGA Device.
What you get: The plugin developer added Titanium Weather, custom Programs panel, CHome Editor and Favorite People Plugin to make Windows Mobile 7 style.
Here is the download link for this theme: Wm7 Theme.
For more info and Latest download link please visit Plugin Developers Site Here: http://www.ibrythill.com/windows-mobile/