Welcome, Visitor.
Subscribe to our RSS Feed
and consider adding this article/site to your favorite social bookmark site if you find it useful. Thank you!
Some people want to use  Samsung Omnia Today Plugin & Application on Pocket Pc. In my last post i talked about Samsung Omnia widget style on pocket pc. If you are interested in real Samsung omnia Today Plugin and Applications made from omnia Device, you will find this project interesting. Some developers have already shared Samsung Omnia Goodies for windows mobile device. Now it runs on Vga Device. But it runs on qvga device after replacing some dll. Here is a working screenshot of omnia second today plugin after replacing dll file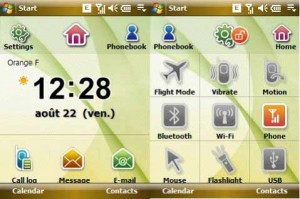 Before installing you need to know that its under development and if something goes wrong you might have to hard reset your Device. But it worked fine on my MDA. The "samsung omnia today plugins" installs three  plugins. those plugins are  samsung plugin1, sams. plug. 2. and widget. You will get an idea about Samsung today plugin by watching this youtube video.

[youtube oNrPJjPvKIU 300 200]
To install Omnia today pluging on your windows mobile device follow this steps:
1. Install AdobeFlashLite 2.1
2. Then install Samsung Omnia Today Plugin 2 Compressed version/UPX cab (9.5MB) to the device. Here is the download links provided by developer Omnia plugin Rapidshare or Omnia Plugun Megaupload
3. If you have 320×320 or 240×320 device download this files for your screen size:  Click here to download. And copy to the windows folder in your device. But check for updated files and instructions visit the link bellow…
If you go to Settings->Today->Items; "Samsung Widget" should be in the list of plugins.  Developers also shared Samsung Omnia D3D Driver, Samsung Omnia Ringtones, GoogleMaps from samsung omnia, Monia today skins and Some more Staffs. For download links and more application visit Samsung Omnia Goodies