Welcome, Visitor.
Subscribe to our RSS Feed
and consider adding this article/site to your favorite social bookmark site if you find it useful. Thank you!
I liked the New Diamond Look Pocket Pc style. I Changed My Pocket pc Look like Htc Diamond. Thanks to the Designer who Published this themes for Pocket pc.
Here is my Today screen Style with Htc Home Plugin: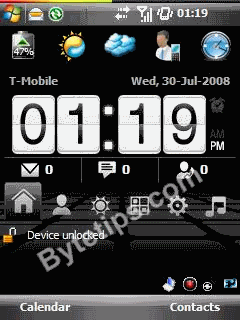 And I installed trial Ver of SpB Mobile shell With Diamond style :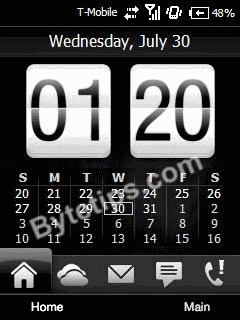 For changing SPB Mobile Shell theme to Diamond style download from this link : Spb Diamond Skin
I am loving this Styles. Its easy to change the style of Today Back Ground. From Xda Developer Forum I got Lots of Diamond App for Qvga and vga device. You can also get the Rom from New Htc Diamond. Here is the link for Diamond Apps (OEM + CAB)
You can find skins for Media player, calculator, Dialpad Skin Etc On that Post. But make sure you read all the instruction before installing any CAB.
You can also Install Throttle Launcher 0.9.3 with Diamond Skin. Here is an Video How its look like :
[youtube w4ZWX6mwSWo 300 200]
Its look Like Touchflo 3D Here You can get more info and Download link. Download and Have fun with Htc Diamond Skin ans styles.
Developers are trying to convert Real  Touchflo 3D Vga  for Qvga Device. Still They are working on it. Thhey named it Hergilla (QVGA Manila) I hope they can convert it for Qvga Device. Here is the Video :
[youtube gJwQL1NnzR8 300 200]
Here you can Download Real Diamond style for qvga Device : Hergilla (QVGA Manila)
Update: If you want to use HtC Diamond Today Plugin for your windows Mobile yocan read this updated Post Manila 2D -Real Diamond Today Plugin