Welcome, Visitor.
Subscribe to our RSS Feed
and consider adding this article/site to your favorite social bookmark site if you find it useful. Thank you!
Java applications have the file extensions named .jad and .jar.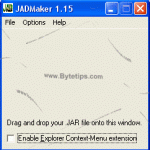 If .jar files are not installing on your mobile phone, you need .jad file for that. Java requires .jar and .jad files together to work correctly. This tutorial will help you to install a Java application on your mobile phone. You can generate .jad files from .jar files.Follow these steps to generate jad file:
You need to download a free software named JADMaker. JADMaker can generate a jad file for your .jar Java Games and applications, so that you can install them to your mobile phone. Download the software from here :  JADMaker
Download and unzip jadmaker. Then Run JADMaker on your Computer.
Then Drag and drop the  .jar file onto the JADMaker window. This will generate .jad file for that .jar file.
Now transfer .jar and .jad files together on your mobile phone. open and install the application or games on your nokia or java supported mobile phone.
Tags for the article:
Windows Mobile Jad File,install java games,Install Jad File Mobile,java application installer mobile phone download,JARAPPS COM,getjar mobile phone downloads jar file,install java games mini phone,installing java games on mobile,www jar apps com,jar unzip