Welcome, Visitor.
Subscribe to our RSS Feed
and consider adding this article/site to your favorite social bookmark site if you find it useful. Thank you!
Today one of my friend sent me some dialer skin graphics for pocket pc. He asked me to make an installer from those graphics. In order to do that i made him a cab installer for pocket pc. I used Quickcab for making that cab file. Thanks to Tim kremer for making this useful utility.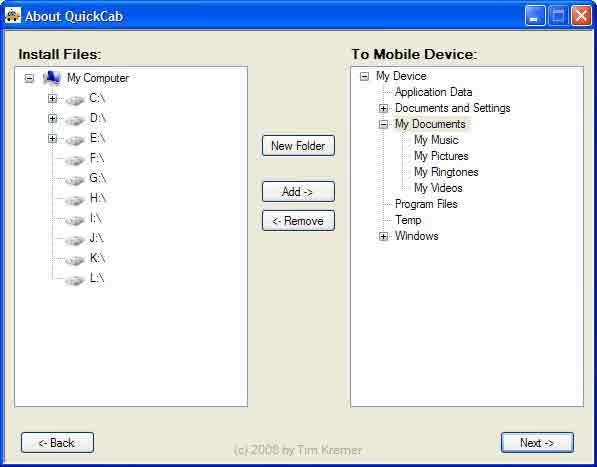 Using QuickCab you can make CAB files easily. If you want copy files or change the registry, it works quite well. You can make installer for themes, Ringtones and registry Tweaks with this utility.
But it have some limitation. Currently it can't make any Shortcuts. I have a workaround for shortcuts. For creating shortcuts at first create a shortcut link for the program in your pocket pc using  then copy that shortcut on your pc. The name of Registry entries cannot have the '\' character in them otherwise you will not be able to remove them with the Remove button. You can make Cab installer infew steps:
1. First add pocket pc files and shortcuts from you pc to its destination directory.
2. Then click Next button to go registry section. Add or import your registry
3. Hit the create button to create the cab installer. Have fun making your own cab file.
Download Quickcab 1.0: Quickcab