Welcome, Visitor.
Subscribe to our RSS Feed
and consider adding this article/site to your favorite social bookmark site if you find it useful. Thank you!
Do you want to customize your windows xp start menu in your way? xp makes it easy to for you. You don't have to go through registry settings for that. You can do it with few clicks. You can add / remove & change settings for start menu using this simple steps:
1. At first Right click on Taskbar and click on properties Or Go to control panel and click on Taskbar and Start Menu
It will open a window named Taskbar and Start Menu properties like this picture.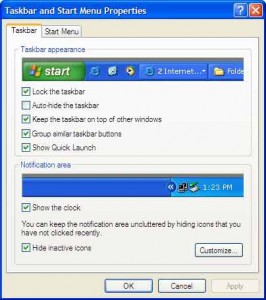 2. You will see some options there. Check mark or Remove check mark the options to enable and disable.

Here is you can find about each of this options:
Taskbar Tab
Lock the task bar : It locks/opens the taskbar button. It allows you to maintain your task bar size button etc.
Auto Hide Taskbar: It hides your xp taskbar automatically when it is not being used.
Keep the taskbar on top of other windows: You can always see taskbar on top of other windows. But you can hide it under windows if you ned more Desktop space. If you disable this option You will not see your taskbar until you close all the open windows.
Group Similar Taskbar Buttons : Same program are grouped together into one button on the taskbar. To know more about this visit here: Group similar taskbar buttons
Show Quick Launch : Quick Launch bar makes it easy to access frequently used programs. Enable or disable it from here.
Show the clock : Enable / disable clock on taksbar.
Hide Inactive Icons: Its Hides Inactive Icons from taskbar using animation.
I shall try to Describe other option in Part 2 . Enjoy and have fun.