Welcome, Visitor.
Subscribe to our RSS Feed
and consider adding this article/site to your favorite social bookmark site if you find it useful. Thank you!
Last time i wrote about Customize Xp Start menu as you like. Now I m going to write rest of the tips. Again go to Right click on Taskbar and click on properties Or Go to control panel and click on Taskbar and Start Menu
It will open a window named Taskbar and Start Menu properties like this picture.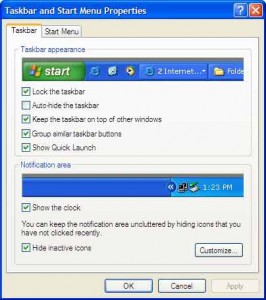 Now click on the Start Menu Tab. Here you can change your start menu Look.. You switch between Xp start menu to Classic Start Menu (windows 98 start menu) . Just select the style and click ok to change the start Menu.
In Start Menu Tab You will a Button It says Customize.. Click on that And it will open a new window Customize Start Menu Like this Picture..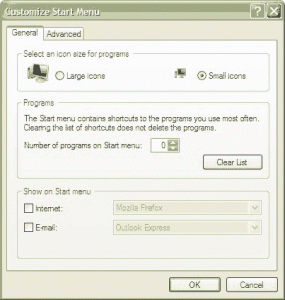 General Tab Options:
In the Select icon size for programs you can change you start menu Icon size as large and small. I like small i con thats why i changed my Icons to Small. Select this options as you like.
In the programs Section set the number. It will remember the programs you recently used. you can even clear this list from xp Menu by clicking on clear button.

And Show on start Menu Section Check or uncheck to add / remove you r favorite browser or email programs from start menu.
Advance Tab Options:
In SartMenu Settings section check or Uncheck the options As you like. The options explained Everything for you.
And in the last Section Recent Documents : Xp remembers You recent documents history when you use them. Here you can enable or disable that. You can clear the Recent document History list from here clicking the clear List Button.
If you Have any questions Just let me know. Thanks..