Do you know that using Yahoo! Answers you can get links , Visitors and more Web traffic? To find about this more Read Here: Get More From yahoo answer . Today I Found a very excellent software that helps you automate your marketing on Yahoo Answers. But Don't use it to Spam Yahoo Answer. you might get Banned from yahoo answers. This software is named Answereye.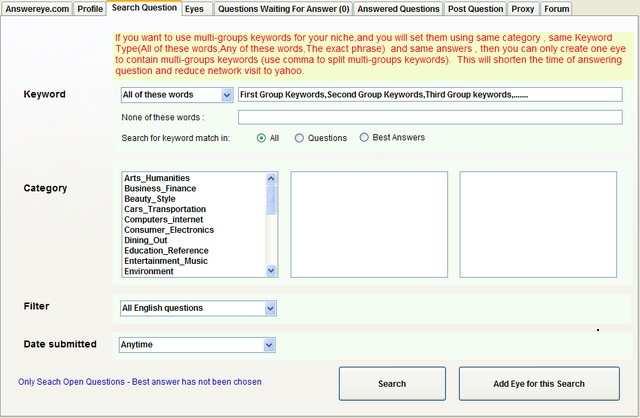 you can do a lot of things Using This software. you can Input your niche keyword terms to search for new (and existing) questions on the Yahoo Answers website, Using this software. You can also Subscribe to any of those search terms and be notified via desktop notification when any new question is posted related to those terms.You can Add an unlimited number of yahoo account to program , software will select the  appropriate account for current question automatically.
Developer shared Four Video Tutorial for Answereye.
Video 1 : Register Yahoo Account and add profile.
Video 2 : Search questions and add eye
Video 3 : Startup eye and answer question.
Video 4 : Post question ,then answer it using yourself answer and select it as best answer.
To view Those Video tutorial and latest Download Link for this Software Visit developers Website Answereye