Do you know about TextGuard? That software can monitor Text Messages from your cell phone.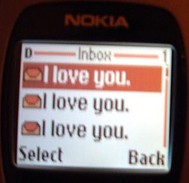 Recently i was browsing and found about this text message spying software named textguard. Parents can track text message Simply installing the monitoring program on computer and each phone. After installing they can see all the texts sent and received. Here is some the key features about text guard:
1. Filter and search messages by subject
2. Filter and search by keyword
3. Block Text/SMS spam
4. Store text messages
5. Filter and search message files
6. Filter and search attachments
7. Text Guard blocks unwanted texts
8. Monitors all incoming and outgoing messages and archives texts on a secured server.
you can find more info about text guard on their website textguard.com. So watch out about installed software on your cell phone and uninstall that if someone is spying on you!!