When I go somewhere to fix any pc, I take my favorite applications to fix pc. I use lots of portable computer application while working on other person's computer. I was always interested to know how to make any app portable. Few months back I made couple of portable application for my use. Today I am trying to share Ultimate Tools, tutorials and software to make portable application (as much as possible).
▼▼▼▼▼▼▼▼▼▼▼▼▼▼▼▼▼▼▼▼▼▼▼▼▼▼▼▼▼▼▼▼▼▼▼
Tutorials & Software's – To Make or Create Portable Application
▲▲▲▲▲▲▲▲▲▲▲▲▲▲▲▲▲▲▲▲▲▲▲▲▲▲▲▲▲▲▲▲▲▲▲
You can find some application to create portable application. You can make portable application in different ways. You need different software and techniques to make portable software. So choose your own way… Because you need to decide which tutorial you want to try. Here is a list of software you should download after reading rest of the article.
1. Portable App Creator (PAC) & Tutorial: This small program monitors an installation in order to make a Portable application.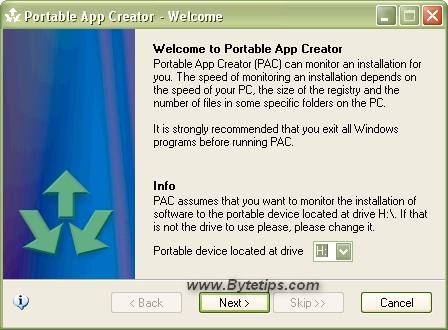 Here is the application download link and video tutorial from the Developer. All credits to this goto a guy at portableapps called maroesjk.