Today i am going to show an easy way to get link from WikiAnswers. This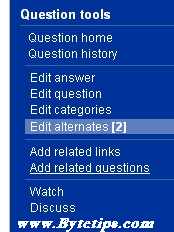 website is based on question and answers. It shows up on Google for tons of searches and this website is PR 7 website. But don't spam this site. You can get your own link on WikiAnswers without answering a post. Search for questions related to your post and add related link to the website. Its easy.. So get your Pr 7 link easily. Follow this steps to add your link to the website:
You need to create an account on WikiAnswers.
Then login to your account. Now search for your keyword related to your topics. Open the question related to your question.
After opening the question, look for left sidebar. There is a link that says Add Related Links. Take a look at the attached picture. Then click on Add Related Links.