Do you Like to Make your Windows Mobile Device same as Htc Diamond. If you don't know about this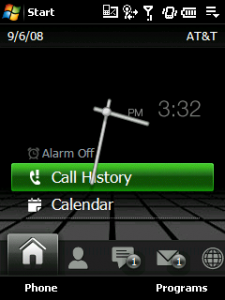 excellent device you can find More info, Download link Here : New Diamond Look Pocket Pc. I added Video Preview to show More about this Plugin. ou can find builtin Manila 2d in this post Manila 2D Madness in windows mobile Roms.
Before I gave a link about HTC Diamond today Plugin named Hergilla (QVGA Manila). I wanted to use HTC Diamond Today Plugin Style for My Wizzard ( T-Mobile MDA ).   Hergilla (QVGA Manila) didn't worked for me I had to uninstall that from My MDA. Developers of Hergilla (QVGA Manila) renamed the project Manila 2D . Manila 2D developers are working on this Beta engine to improve its quality.  It Supports ELVES, Vogue, Polaris, Kaiser, Artemis, Hermes, NIKE, Herald, Trinity, Titan And Wizzard Device.  Manila 2D is also Known As Touch Flo 2D Plugin.  You can find a  a lot of skins for this Plugin.