Update: If you wanna try Touchflo 3D for qvga device its Out!!  Read it here: Touchflo 3D Qvga . you can find builtin Manila 2d in this post Manila 2D Madness in windows mobile Roms.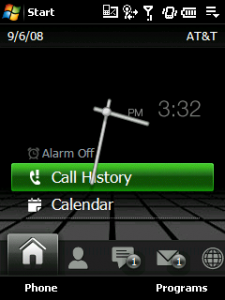 I wrote about this beautiful Pocket pc plugin before. I am a fan of manila 2D Plugin. You can go back to this posts to see why i am a fan of Manila 2D. Here is My previous posts about ths plugin New HTC Diamond Look Pocket PC and Manila 2D -Real Diamond Like Today Plugin.
Manila 2D developers realeased an update of Manila 2D Today Plugin. Its Working better then before. September 30, 2008 Developers released update 18 with some Bug fixing. Now manila 2d have Easy theme customizing program. Update 18 includes all windows mobile pocket pc devices. you can download the latest Updated Plugin from this link Manila 2D Development. You will find quick fixes and tips for this Plugin there.
How to install Manila 2D
Installing manila 2d is Easy. Plz note that Back up Your Data from your device before installing this plugin. If something goes wrong you have to hard reset your windows mobile pocket pc.Download the lated Manila 2d Plugin from link then Unzip it. Then install this cabs one by one. IF ANY REASON THE SYSTEM SAYS TO RESTART, THEN RESTART YOUR DEVICE
AudioManager_2.0_1819.2129.cab
Enchasements.OUTLOOK.and.PICTURE.cab
Album_2.0_1818.3032.cab
YouTubeQVGA 1_5_1819_1531.cab
Opera_v9.5_Build_2392_QVGA_WWE.cab
GoogleMaps_compressed.CAB
Task_Manager_2.1_34837.5.cab
WindowsLive_NoIM_0409.cab
Manila2D_1.00_1819.2926.CAB
Manilla2D_HTC_Patch.CAB
Other Cabs Are Optional.  Restart your Device and Enjoy.