Update: To fix Trojan.JS.Redirector.ar  (false alarm ) update you kaspersky virus database and it should fix the problem.
This morning i woke up and tried to visit a site and found that my Kaspersky Internet security detecting Trojan.JS.Redirector.ar on that site… My antivirus reported…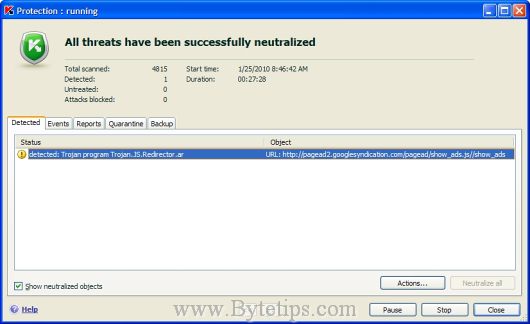 Detected: Trojan.JS.Redirector.ar http://pagead2.googlesyndication.com/pagead/show_ads.js//show_ads
I was like wow.. is that real .. Google Adsense URL generates Trojan.JS.Redirector.ar virus warning. I know it was a false virus alarm.. If your Wbsite or blog have google adsense then you may see the warning !! For now disable Google Adsense from you site wait for a fix.. or else your readers might go away.
Most of the publishers use Google Adsense to earn revenue from their site. If you see this trojan warning let the website Owner know about this.  Thousands of websites are effected wow..  Check..  Update your Antivirus to get rid of this problem.  I hope that will fix the problem ..  as they said..