There are some App to get free Apps apps from app store. You can get free iPad apps and get free iPhone apps . I get free apps from app store when there is a special promotion starts. Every day some Apps shows hundreds paid apps that goes free on the App Store. Some apps also shows latest price drops on App store.
Today i am going to add some of the best app to find free apps. We will add and Update the list if we find more useful apps. Also let us about some great Apps using our  Contact Page. We will add in the list.
1. AppGratis : This is one of the best app that provides one free App Everyday. Some Apps like Shift 2 Unleashed ,Rayman, Snapseed, Whatsapp. Rhave gone free in the past.

You can download the App From here: AppGratis
2. Appsfire (Free): This App is one of the 10 must have apps recommended by – CNET (2013). Also one of the best app that lists great apps that goes free for limited time.


Download the AppsFire from here: AppsFire
3. AppTicker : Here is one of my personal favorite. This app finds hundreds of price drops and free apps on the App Store. Lots of features. You can short the result in different way.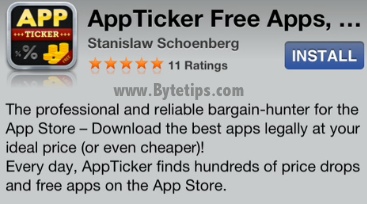 Download The App From Here: AppTicker
Have Fun …