Recently i customized my Windows Mobile Rom. I got an Unlocked T-mobile MDA on my hand but didn't liked windows Mobile 5 interface. I searched for windows mobile 6.1 upgrade for MDA but no luck from official T-mobile Website. I saw lots of questions about Updating windows mobile ROM. I found lots of ROM but wanted to build my own Junk free ROM.
At First you need to download a good Kitchen and a good ROM for windows mobile. For Kitchen I found that HyperCore Kitchen is the best choice so download the kitchen from here :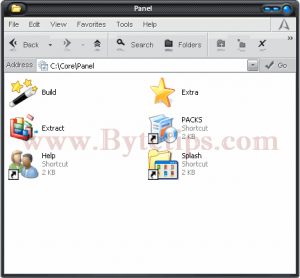 Kitchen source:  HyperCore Kitchen

Working Link Hyper core Kitchen
Latest Kitchen Download:
Download
You can Use this kitchen for Wizard, Hermes, Artemis, Herald, Universal, Trinity and Prophet. Then Download a Rom for your device. You can find a lots of coustomized ROM for windowsmoble devices on Xda Developers. Before Downloading a windows Mobile Rom  you need to know what kind of Windows Mobile Device you Have .  And You need a CID Unlocked Device. I know that my MDA is a Wizard and it's a G3 Device. To know about your device please read Smartphone / PDA Nick Names And Unlocking. I added some Unlocking tools source for different Device. After downloading and Unlocking Your Device You can update your Rom. To coustomize your downloaded ROM follow this steps:
CREDIT GOES TO anichillus for his Tutorial and kitchen. I just modified the tutorial with some pics and steps.  Hope it helps…
Extracting a ROM
1. Extract The kitchen to your C: Drive otherwise it will not work properly. It should be C:\Core\ on you PC. First of all you need to edit the file named "Device.txt" located on the "C:\Core\ACK\" folder located on systemdrive. You will see set device= . If you have a Wizard then edit the test like this set device=Wizard. Then Go to your downloaded rom directory ans copy the nk.nbf or the .nbf file to Desktop\HyperCore\Panel\Extract\source Folder. Make sure that .nbf file is named as nk.nbf.
2. The Navigate to Desktop\HyperCore\Panel\Extract folder and Start DumpRom and hit Enter to Dump / Extract  the ROM from nk.nbf file. You will see its working.. After few seconds..minutes, depending on your PC and the ROM you are extracting you will be prompted with a Status and with some questions. Here you can start PKG Tool and you can move the OS.nb to ROM folder. Take a look at the bottom picture :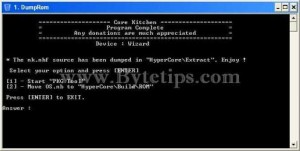 Type In 2 and hit Enter to copy Os.nb. Now Type in  1 and hit [ENTER] to start Package Tool. Read the window and Hit [ENTER] to continue…