webmasters can earn Money from Google Adsense Using Youtube video I Tried it in my video blog. Video bloggers can Use youtube with Adsence and can earn some extra money from their blog.
Learn How to merge youtube account with adsense account: Merge youtube account.
Here is an example Adsence youtube player.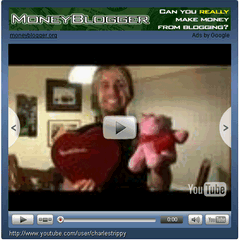 While playing videos it shows Ads from Adsence and you can customize youtube player for your site. Go to your youtube account and customize the colors,generate code and have fun.
The code works on HTML page but does not work in wordpress post editor. WordPress is not javascript friendly. You have to enable javascript. I found this unofficial plugin from http://ottodestruct.com Here s the Plugin : scriptenabler