Before reading this trick please notes that this is a Blackhat trick to get thousands of Junk traffic to a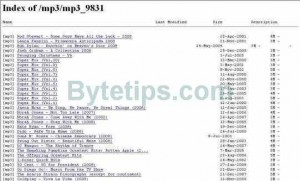 website, blog or targeted landing page. I found this trick few days ago and I don't even want to try this trick because it's a black hat technique. Before applying this trick you should know that black hat methods are easy to apply but it's not legal. I am sharing this trick for educational purpose only. If you apply this trick, you are responsible for everything. You can get around 2k Junk visitors for free from search engines easily. This is a junk traffic because you have to trick website visitor to your targeted landing page. We are making a fake mp3 music directory and converting the downloading links to junk traffic. (This is not a nice thing to do!!) This method can redirects some serious traffic. If you are looking for some junk traffic stop wasting money for buying traffic.
Thousands of people are interested for downloading free music, free porn's and other interesting stuffs. Some webmasters are taking this advantage of this. Before I added some tips about searching mp3 and other files on the Search engine here. This trick helps to find free mp3 music and mp3 music directory easily. I know that I got a lot of hits on that tips. People are crazy about downloading free music. The script developer used some sites to print fake music directory. Then he used that fake music directory to redirect traffic to a targeted landing page. Here are the step by step details about that:
1. At first you need a domain and hosting. If you have some extra domain sitting around without any profit you should use that leftover domain.
2. You need to run a perl script on your server or windows. To run perl script on windows you need to use server software like Xampp or Download activeperl for your windows version. Install and follow the instructions. If you are not sure how to install this Plz read here.
3. When you are ready to run perl script, then download the mp3 Perl script or the porn perl script developed by the Script developer.
Continue Reading →