Welcome, Visitor.
Subscribe to our RSS Feed
and consider adding this article/site to your favorite social bookmark site if you find it useful. Thank you!
When I go somewhere to fix any pc, I take my favorite applications to fix pc. I use lots of portable computer application while working on other person's computer. I was always interested to know how to make any app portable. Few months back I made couple of portable application for my use. Today I am trying to share Ultimate Tools, tutorials and software to make portable application (as much as possible).
▼▼▼▼▼▼▼▼▼▼▼▼▼▼▼▼▼▼▼▼▼▼▼▼▼▼▼▼▼▼▼▼▼▼▼
Tutorials & Software's – To Make or Create Portable Application
▲▲▲▲▲▲▲▲▲▲▲▲▲▲▲▲▲▲▲▲▲▲▲▲▲▲▲▲▲▲▲▲▲▲▲
You can find some application to create portable application. You can make portable application in different ways. You need different software and techniques to make portable software. So choose your own way… Because you need to decide which tutorial you want to try. Here is a list of software you should download after reading rest of the article.
1. Portable App Creator (PAC) & Tutorial: This small program monitors an installation in order to make a Portable application.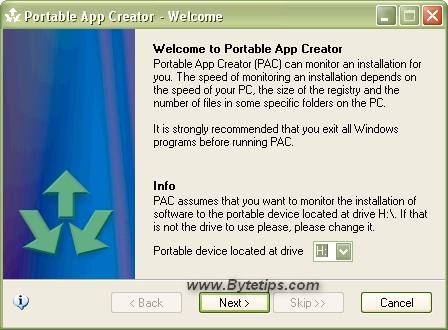 Here is the application download link and video tutorial from the Developer. All credits to this goto a guy at portableapps called maroesjk.
Here is the post link: :http://portableapps.com/node/9909
Download Link : http://www.mediafire.com/?l2oqnhqxlwz
Video Tutorial by maroesjk:
[youtube itqzdCJKWUc]
Tutorial download Link: If you want to download the tutorial here is the link provided by the author.
http://rapidshare.com/files/95463341/PAC_video_demo_-_xvid.avi
2. Make portable using Portable Apps Creation Master : Most of the time I use portable application creation master to make portable computer application. You will find a tutorial with pictures inside the archive. Or to know more details follow this tutorial.
1. Download and extract portable application creation master from http://portableappscreation.googlepages.com/
2. I updated my RegShot software. I suggest you should update yours. Download RegShot Unicode and copy – paste files in the data folder on Portable Apps Creation Master. Right-click on the program and Start RegShot. Current version of regshot is 1.8.2 , but You can find a newer version of regshot from http://regshot.ru/20/
3. Now watch this video tutorial. If you have any question let me know.
[youtube aChazcbJJw4]
Enjoy this tools to create portable application. More tools and tutorial is coming soon…