Do you want to customize your windows xp start menu in your way? xp makes it easy to for you. You don't have to go through registry settings for that. You can do it with few clicks. You can add / remove & change settings for start menu using this simple steps:
1. At first Right click on Taskbar and click on properties Or Go to control panel and click on Taskbar and Start Menu
It will open a window named Taskbar and Start Menu properties like this picture.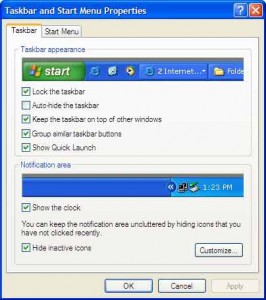 2. You will see some options there. Check mark or Remove check mark the options to enable and disable.
Continue Reading →