Welcome, Visitor.
Subscribe to our RSS Feed
and consider adding this article/site to your favorite social bookmark site if you find it useful. Thank you!
Bytemix is a Free WP Theme, featuring 2 columns layout with Left sidebar. Before i designed 3 columns wordpress theme Bytetips for wordpress bloggers . This time its a tweaked version on a request from a blog reader. I checked this theme with WordPress Version 2.7. Its compatible with WordPress Version 2.6.5 Here s a screen shot of the theme. I submitted the theme to wordpress theme directory. I shall add more info and demo as soon as possible.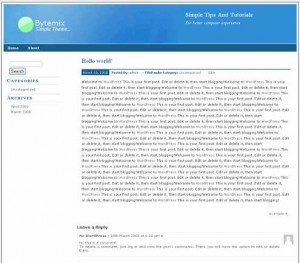 If you want to change the Logo then you have to create your own image/ logo. Make a logo and rename it head.jpg

After making a logo go to theme directory. Then go to Image directory. Ex ( bytetips/images) and replace head.jpg with your logo. If you have any question plz post it here.

Bytemix Wp theme Update 1.6

There was a problem on comments.php file with new wordpress version 2.7rc2 . Fixed that issue and uploaded new version.

Download link for Bytemix Theme for wordpress: Bytemix 1.6

<!– google_ad_section_end –>